There are times that we need change.
New haircut.
Trying a different perfume.
Running a new route.
Sports car ... hehehehe.
For me, it was a blog makeover.
Having lost inspiration to post anything due to the fact I thought my blog was UGLY. And I seem to not be able to post certain pictures without distorting the look of the blog.
I went on the search for someone to give me a Blog Makeover.
I really didnt have the money to be doing it. So I searched and searched for someone with cute work, and reasonable.
After digging through my craft blogs I stumbled upon Courtneys blog over at
Not So Homemade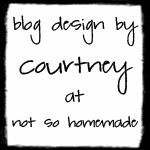 After seeing that she did a number of craft blogs that I follow I knew she would give my blog some good lovin.
The process was almost to simple. Knowing what I wanted helped. But Courtney was really able to see exactly what I wanted and created that here!
So a big thanks to Courtney, for snazzing things up and giving me inspiration to actually gets some posts done.
Make sure to drop by her blog for some YUMMY recipes and great crafts!
Now that means I need to stay on the ball with my workouts & races to have something to post about!